Okay Plus Size Babe's Ive decided to make a commitment to myself to blog regularly. Life happens, you get busy and things come up what can you do? Now that life has slowed down I can take a breath and focus on following my dream of blogging! So let me start off my telling you about what I got from….. shoppinkblush.com
This PinkBlush Black Lace-up Dress is soooo soft I love it! When I saw that it is made up of 73% Modal and 27% Polyester I was estatic! Modal is what makes it so soft and its always nice to have something besides cotton in your closet. This dress also comes in a soft baby blue color which made it hard to decided what color to get. Going with Black is typical of me but I'm still adjusting to my new hair color. Don't get me wrong though the baby blue color is gorgeous especially for Spring and Summer.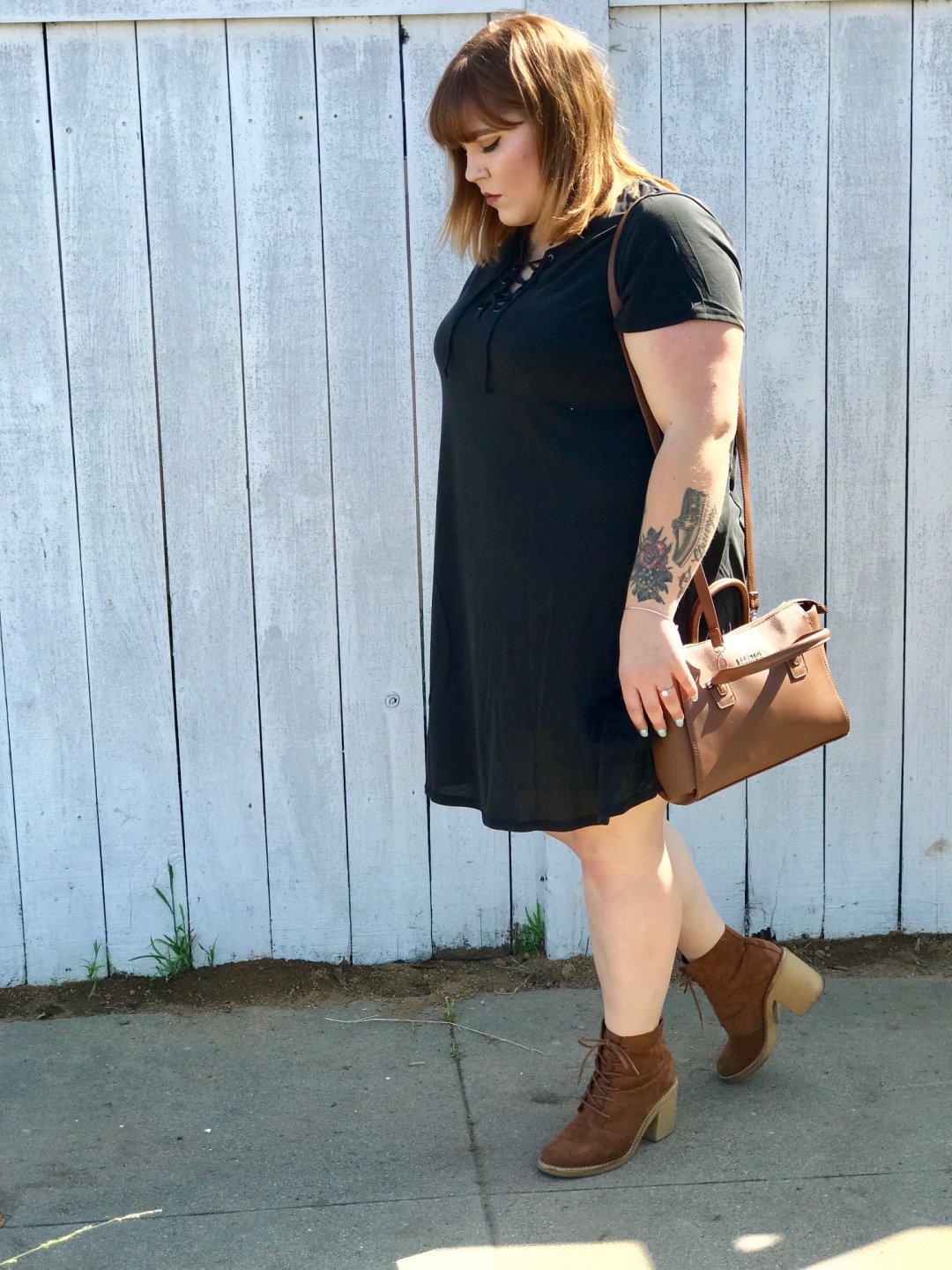 Shop This Dress
I was headed out to a birthday dinner and I wanted to be casual but cute. Since the dress is simple but has this great Lace-Up detail I went with more of a boho touch. I wanted to add a bit of color and these camel gum sole booties were perfect, with a bag to match. I added a soft touch of boho jewelry to keep the attention on the Lace-Up detail. What I am super Impressed by this trendy online boutique is it's sizing! I kept going back and fourth 1X or 2X, 1X or 2X. I range in sizing based on comfort level, like if I want it to fit bigger or I feel like it might run small. I decided to go with a 1X and I am so Happy I did. It runs true to size, it i not tight in the arms or too short and those are usually my problem areas.
FYI: PinkBlush also carries a Maternity line for both Women & Plus. Which I can't wait to buy from here when its time to have a baby!
This dress is really versatile, you can dress it or down. It's perfect for keeping it casual but easy to dress up. Pair it back with some sneakers and a baseball cap. Or just throw on some booties to dress it up real quick!
Go give PinkBlush a look, there's some great spring pieces especially dresses!